Die Schweiz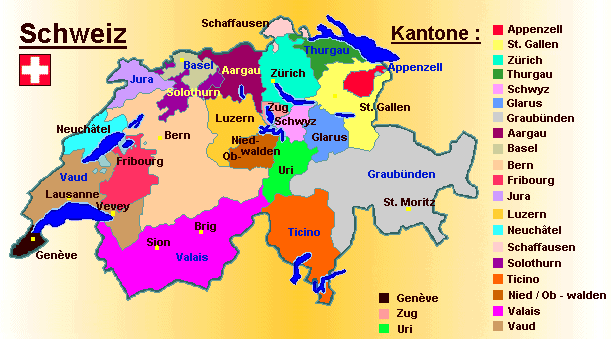 Switzerland is a landlocked mountainous country in South Central Europe, bordered by Austria, France, Germany, Italy, and Liechtenstein.
With an area of 41,285 km2, the country is only slightly smaller than the Netherlands or slightly less than twice the size of the US state of New Jersey.
Switzerland has a population of 8.3 million people (in 2015), capital city is Bern, largest city is Zürich. Spoken languages are German, French, Italian and Rumantsch, traditionally spoken in the different regions (cantons) of the country. According to the World Happiness Report 2015, the Swiss Confederation is officially the happiest nation on Earth.
Geographically the country is divided between the Alpine region of the Swiss Alps in south, the Swiss Plateau with its rolling hills, plains, and large lakes, and the mountainous Jura in northwest.
The country is a famous tourist destination for its ski resorts and hiking trails. Banking and finance are key industries, and Swiss watches and chocolate are world renowned.
In the 13th century, the Gotthard Pass region in the heart of the Alps became negotiable and rapidly developed into an economically important north-south crossing point. As a result, the valleys of Uri, Schwyz, and Unterwalden at the north foot of the Gotthard massif suddenly became a focal point of European power politics, and this led their inhabitants to found the core of what was to become Switzerland with a pact of mutual assistance.
Today Switzerland is a federal state in Central Europe. It is bordered by Germany, to the north, Austria and the Principality of Liechtenstein, to the east, Italy, to the south and France, to the west. Switzerland's independence and neutrality have long been honored by the major European powers and Switzerland was not involved in either of the two World Wars. The political and economic integration of Europe over the past half century, as well as Switzerland's role in many UN and international organizations, may be rendering obsolete the country's concern for neutrality.
Source: One World Nations Online
---
Übung 7-3a Fakten über Die Schweiz Im BOLT.
Was ist die Hauptstadt von der Schweiz?

Dieses (This) Nachbarland liegt südlich von der Schweiz.

Wo liegt der Kanton St. Gallen in der Schweiz?

Was für Sport treiben viele Touristen in der Schweiz?

Welche (Which) Industrie ist wichtig in der Schweiz?

Warum war die Schweiz geographisch und politisch wichtig?

Im Zweiten Weltkrieg war die Schweiz...