The Rier lab at Bloomsburg University, along with the Chesapeake Conservancy, PA Department of Conservation and Natural Resources, Susquehanna University and the Chesapeake Bay Foundation are partners in a three-year initiative to restore and conserve the Susquehanna River Watershed. This project was funded by a grant from the National Fish and Wildlife Foundation. This collaborative project pilots a new approach called precision conservation that aims to use new technologies and data sets to improve water quality by reducing sediment and nutrient pollution from non-point sources. Our role in this project is to directly evaluate the effectiveness of the precision conservation approach by determining if restoration efforts actually reduce nutrient and sediment loads and restore key ecosystem functions.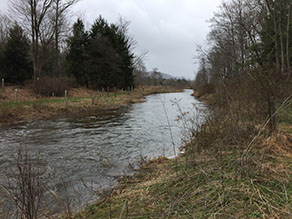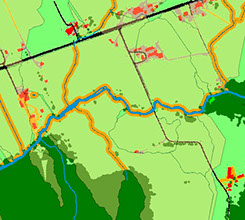 Stream ecosystem function collectively describes the flow of energy and elements through ecosystem components and includes vital process like photosynthesis, respiration, organic matter mineralization and nutrient uptake. These processes are directly tied to important ecosystem services such as reducing levels of nutrient pollution, degrading pesticides and maintaining viable recreational fisheries. Unfortunately, assessing ecosystem function using traditional approaches can be time consuming and expensive. Therefore, ecosystem function is rarely evaluated in assessments of stream health. Our lab is investigating the efficacy of alternative approaches to assessing ecosystem function across landscape gradients of agricultural impact. These approaches include pulse amplitude modulated fluorometry, sort-term nitrogen and phosphorus uptake in portable mesocosms and extracellular enzyme activities.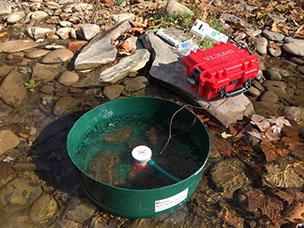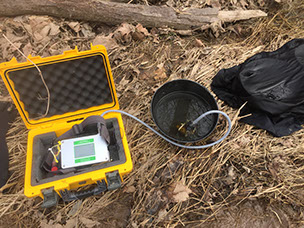 We have established a real-time monitoring station on Fishing Creek in Kocher Park north of Bloomsburg Pennsylvania. The overall objectives of this project are to provide a tool for student-centered research and service leaning in environmental-related classes, increase the profile of the Bloomsburg University's Environmental Science programs in the surrounding community with the goal of attracting talented students to these programs and provide a means by which Bloomsburg University can more effectively engage with the surrounding community, including high schools and watershed organizations, on water quality issues and the overall health of this region's freshwater resources.
This station measures stream depth, pH, temperature, conductivity (dissolved material in water), dissolved oxygen, turbidity (suspended material in water), dissolved organic carbon, the amount of light striking the surface of the water and meteorological data (air temperature, barometric pressure, humidity and precipitation). These data are collected automatically every 15 minutes and then uploaded to a server via cell phone modem and made available on the web in real-time. These data are uploaded to a secure server maintained by Netronix Inc. in Philadelphia and made available to the public through an interface developed my students in Dr. Curt Jones' software engineering class.
One unique aspect of this station, is that it combines all parameters necessary (oxygen, depth, temperature, barometric pressure and light) to estimate the collective metabolic activity (both photosynthesis and respiration) of all organisms in the immediate upstream reach. Gross primary productivity (total photosynthesis) and ecosystem metabolism are currently inverse modeled using the R package, StreamMetabolizer (Appling et al.) and made available on the public website.